The Gathering Place will be closed for the 2020 season due to the Pandemic. WIFI will continue to be broadcast outside.
We are considering workarounds such as takeout service for coffee once we open for the season.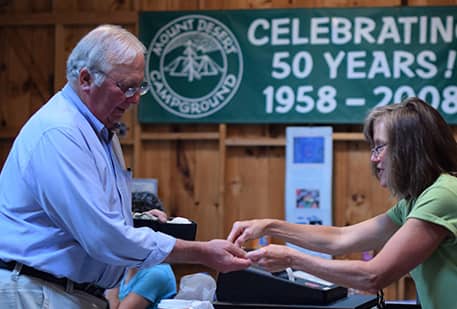 The Gathering Place is open all day for campers to come in, relax, visit with other campers. Read a book, play cards, write a postcard or if you come during the staffed hours, purchase a cup of freshly brewed coffee by Portland, Maine's Coffee by Design and enjoy some tasty treats from island bakeries such as Mount Dessert Bakery from Bar Harbor and Colonel's Doughnuts from Northeast Harbor. You can also purchase crab nets, ice or bundled wood for your campfire!
Want to get away but stay connected? We offer free broadband Wi-Fi at the Gathering Place.